Our Clergy
Rabbi Joshua Hammerman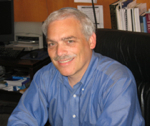 As Temple Beth El's spiritual leader since 1992, Rabbi Joshua Hammerman has focused his efforts on creating an oasis of warmth, love and mutual respect, befitting the role of a modern congregation in an increasingly complex world. At the same time, he strives to challenge congregants — and himself — to reach ever higher in setting spiritual and ethical objectives, and to delve more deeply into the rich vein of Jewish inspiration and wisdom available to us. He has been a champion of inclusiveness and innovation in synagogue life, implementing programs like Synaplex and Shabbat Unplugged while embracing people of all backgrounds and faiths.
During his time at Temple Beth El, Rabbi Hammerman has been president of the Interfaith Council of Southwestern Connecticut and the Stamford Board of Rabbis, a chaplain for the Stamford Police, and a member of the pastoral advisory committee of Stamford Health Systems. He also serves on the Rabbinic Leadership Council, a select group of rabbis chosen by Chancellor Arnold Eisen of the Jewish Theological Seminary (JTS). He is a member of the faculty of CLAL, the National Jewish Center for Learning and Leadership, and has been heavily involved in many Jewish think tanks, including JESNA's Jewish Education 3.0 project, STAR-Tech and Synaplex.
A noted cyber-Rebbe, Rabbi Hammerman has pioneered the use of the Internet for inspirational and educational purposes, and his blog, On One Foot, is followed worldwide. "On One Foot," the column, has appeared regularly in The New York Jewish Week since 1994. In 2009, he won the Simon Rockower Award, the highest honor in Jewish journalism. He is the author of thelordismyshephered.com: Seeking God in Cyberspace and co-author of the children's book, I Have Some Questions About God.
Rabbi Hammerman was ordained at the Jewish Theological Seminary in 1983 after receiving a master's degree in journalism from N.Y.U. and a B.A., magna cum laude, from Brown University. He came to Temple Beth El as its assistant rabbi in 1987. In 2010, he was awarded an honorary doctorate from JTS for his years of service to the Jewish people.
Rabbi Hammerman loves surfing the Internet, rooting for the Boston Red Sox, a good, Israeli hummus, and all things Jewish. He is also an active supporter of Brown University, often conducting alumni interviews of prospective students. He lives in Stamford with his wife, Dr. Mara Hammerman, a psychologist. They have two children, Ethan and Daniel, along with two standard poodles, Crosby and Chloe.
Contact Rabbi Hammerman: rabbi@tbe.org | (203) 322-6901 x 307.
---
Hazzan Emeritus Sidney G. Rabinowitz
Hazzan Emeritus Sidney G. Rabinowitz, formerly Cantor and Director of Musical Activities at Temple Beth El, is a graduate of the Jewish Theological Seminary of America. He is a member of the Cantors Assembly, from which he was commissioned, and served as a member of its Executive Council on the Commission of Youth Activities. He is an Honorary Fellow of the Cantors Institute and a past president of the Connecticut Region of the Cantors Assembly.
Hazzan Rabinowitz also distinguished himself as an interpreter of Jewish music, conducting three choirs at Temple Beth El. In addition to their extensive repertories, the choirs often premiered new works of Jewish music composed specifically for them. Among the many honors he has received, Hazzan Rabinowitz was named "Clergy of the Year" in 1995 by The Council of Churches and Synagogues — the first Jewish clergy in Stamford to be the recipient of this honor.
In May 2002, Hazzan Rabinowitz was honored by Temple Beth El and the Stamford Community upon his retirement after 32 years of service. In March 2006, Hazzan Rabinowitz was honored by the Jewish Theological Seminary with the degree of Doctor of Music Honoris Causa.
Hazzan Rabinowitz was married to the former Sondra "Sandy" Resnick, of blessed memory. He is the father of three daughters, ten delightful grandchildren and a great-grandchild. He now resides in Burke, Virginia.