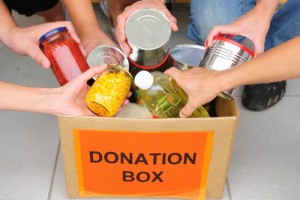 Each year, your generous contributions to TBE's High Holiday Food Drive make a difference in the lives of our less fortunate neighbors.
Bags will be handed out during Rosh Hashanah services. Please bring your bags filled with unexpired food back to the synagogue on Yom Kippur. (The truck will arrive on Tuesday afternoon before Kol Nidre.)
Volunteers are needed (rain or shine) on Sunday, October 13, starting at 1:30 p.m., to sort bags and stock shelves at the food pantry at Person-to-Person, located at 1864 Post Road in Darien. This is a fun opportunity for individuals and families to perform the mitzvah of tzedakah.
To sign up to volunteer or for more information, contact Ken Temple by e-mail or call (203) 962-1491.
Let's break our past record and fill the shelves. Person-to-Person informs us that our High Holiday Food Drive has provided groceries for over 100,000 meals sine 1991!
Social Share