Melanie Roloff and Marissa Young will be honored at this year's Annual Membership Meeting on May 23, 2018, with Teen Volunteer Awards. The Temple Beth El Teen Volunteer Award is given to a teenager who has exhibited exceptional leadership and engagement at TBE and who serves as a role model for others.
Melanie Roloff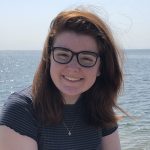 Temple Beth El has been Melanie's second home for years. She is a graduate of TBE Religious School and had her Bat Mitzvah here. For the past several years, Melanie has been a committed Madricha in the second grade working with Rachel Bahar. She also tutors students in the school on a one-on-one basis. She is actively incolved in the community at the JCC, BBYO, Friendship Circle and ADL. She served an internship with Stand With Us. Melanie is very excited about visiting family in Israel this fall and attending the University of Vermont in January.
Marissa Young
The ways in which Marissa has contributed to both the Jewish community and Stamford High School are too numerous to count — from being a Madricha and tutor in the TBE Religious School to president of the Stamford Chapter of BBYO; from leading more than 100 girls in weekly programs to build community, provide peer support and raise funds to combat hunger, support disabled veterans and other causes, to participating in the Friendship Circle Program for children with special needs.
Marissa is also editor-in-chief of The Round Table, Stamford High School's student newspaper; vice president of the school's Friendly Faces Club, which helps foster a fun and welcoming environment for students with disabilities; and captain of the varsity gymnastics team.
Social Share