Our Staff
Steven Lander, Executive Director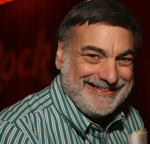 As Temple Beth El's executive director, Steven Lander has been an integral part of the Fairfield County Jewish community ever since he moved to the area in 1969 and became youth director, program director and then executive director at the Norwalk Jewish Community Center.
In 1975, Steven co-founded Amazing Stores, building up the chain to seven stores in Connecticut. Following his 20-year reign as "Mr. Amazing," he became director of development for the Human Services Council in Norwalk and served on its board of directors. Throughout this time, Steven remained active in Jewish affairs serving as president of the Norwalk Jewish Community Center; campaign chairman of the Norwalk UJA Federation; as well as president and treasurer of Beth Israel Synagogue in Norwalk.
In 2000, Steven returned to Jewish communal work, serving as executive director of Congregation Agudath Sholom in Stamford for seven years before joining the staff at Temple Beth El.
Steven's wife, Lieba Lander, is an administrator at the Gan Yeladim Pre-School. The Landers have three children: Joshua, Deborah (who lives in Israel), and Karen; and four grandchildren.
Contact Steven: execdir@tbe.org | (203) 322-6901 x 304
---
Lisa Gittelman Udi, Director of Congregational Learning
Lisa Gittelman Udi runs Temple Beth El's Religious School and coordinates all adult education, teen programming and High Holidays children's activities, among her other responsibilities. She is a dynamic and creative educator and skilled administrator with 15 years of experience as an educational director for various synagogues, including, most recently, Greenwich Reform Synagogue. She also worked as a youth director and was the teen Jewish resource specialist supervisor at Surprise Lake Camp in New York State.
Lisa is a Phi Beta Kappa graduate of USC and has extensive post-graduate training in Jewish education, folklore and mythology.
Contact Lisa: eddir@tbe.org | (203) 322-6901 x 305.