Young Families@TBE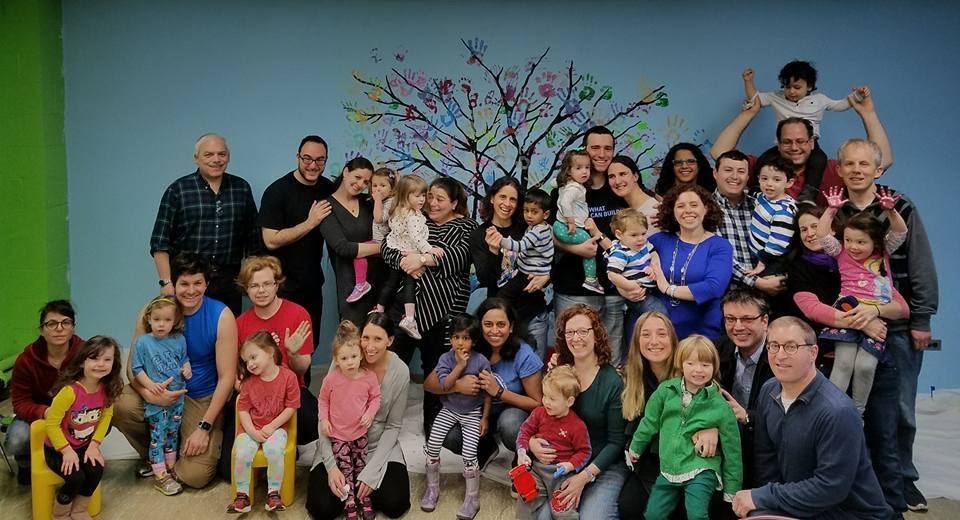 Young Families@TBE is a warm and inclusive group of families with children through age 5. Together, we foster and strengthen our children's Jewish identities and welcome all who share our passion for passing a love of Jewish values and traditions on to their children.
While TBE membership is not required for many of our activities, many young families take advantage of the various benefits of TBE membership. All programs are posted regularly on our Facebook page at www.facebook.com/tbeyoungfamilies.
Here's a sampling of our current programs:
ShaBaBimBam. This Shabbat-themed music and movement program features Music Together's Natasha Fenster and Steve Epstein. Families celebrate Shabbat in our Clubhouse before enjoying a Kiddush lunch with the congregation. ShaBaBimBam is held twice monthly for an hour, and no RSVP is required to attend. It is one of our most popular programs.
Drum Circle. Got rhythm? Or don't, and want to? Join our monthly family Drum Circle! Our fabulous music teachers lead our little ones in drumming and rhythm in the Clubhouse. This program takes place monthly for 30 minutes, just before ShaBaBimBam.
K'tanim. A monthly Sunday drop-off program of TBE's Religious School for 3 and 4-year-olds for 10 sessions during the school year. Students experience Jewish learning that will last a lifetime, featuring an enriching curriculum focusing on holidays, stories, blessings, and values through play, music, movement, and crafts. Please click here for more information.
Teva Kids. A Religious School drop-off program for 3 and 4-year-olds, this program also takes place monthly on Sunday mornings for 10 sessions. Each session explores aspects of science and nature from a uniquely Jewish perspective. Teva Kids integrates principles of STEAM Education (Science, Technology, Engineering, Arts, and Mathematics) with Jewish values, stories, rituals, and spirituality. Note: K'tanim and Teva Kids meet on alternate Sundays, allowing families to enroll children in one or both programs.
Young Families Kabbalat Shabbat. This Kabbalat Shabbat program is perfect for Young Families (including older children as well), as we meet earlier than our traditional Friday night service several times throughout the year to welcome Shabbat with dinner, songs, and fun. This BYO dinner is led by our very own Rabbi and Cantor.
High Holidays Children's Programs. Our children's programs on Rosh Hashanah and Yom Kippur get rave reviews every year. Students up to age 12 enjoy age-appropriate activities including stories, prayer, music, holiday-themed crafts, snacks, and games as they celebrate the High Holidays with peers. There are holiday services for families with young children and services for older children as well. Our "drop-off" program begins at age 3½. Parents can participate in our beautiful and inspiring High Holiday services (with our spectacular music) while their children have fun while also experiencing the High Holidays. Families with children under 3½ are welcome to join our children's programs, but we do request that one adult remain in the room.
Holiday Celebrations. We host thriving holiday parties and programs throughout the year. Each event is thoughtfully comprised of enrichment activities and entertainment centered on the traditions and customary foods of each holiday. Come celebrate with our diverse and warm community.
Parent Activities. We have activities such as Parents Night Out, brunch, planning get-togethers, and more.
Seasonal Activities. In the summer we gather together for picnics, BBQs, Backyard Shabbat and more; in the winter, we enjoy indoor parties, potluck dinners, movie nights, and other fun events and celebrations. There's always something going on with the Young Families@TBE.

We invite you and your family to join this incredible community here at Temple Beth El.
For more information, contact Jami Fener at youngfamilies@tbe.org or call (203) 322-6901.