Hevre Young Families@TBE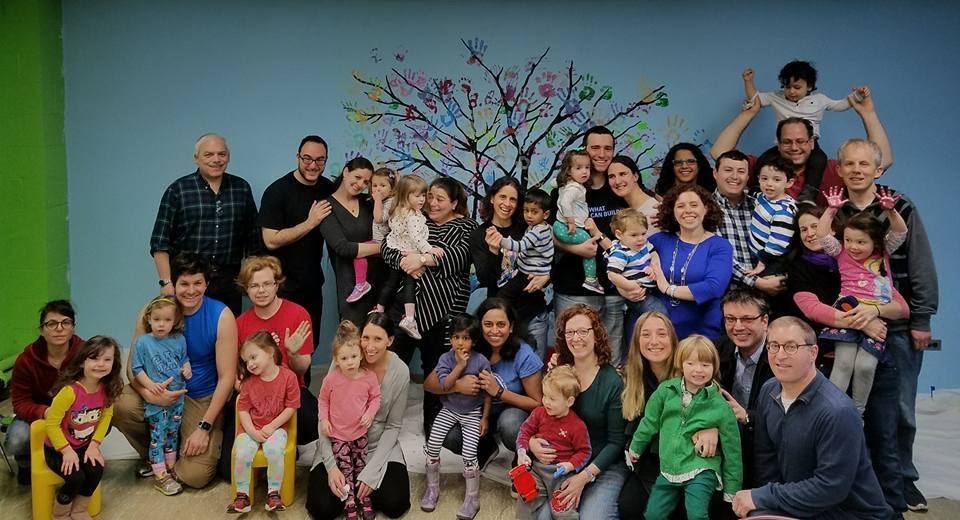 Hevre Young Families@TBE is a growing community of young families with children ages 5 and under, whose goal is to create a warm and welcoming Jewish environment for both parent and child. Young Family programs are designed to foster and strengthen Jewish values and identity through family experiences both inside and outside the synagogue.
Participation in the group does not require TBE membership or even an RSVP in most cases. Everyone is welcome. All we ask is that you bring a smile on your face, a desire to meet other young families, and a love for Judaism when you attend events. Upcoming programs and activities are regularly posted on Facebook at www.facebook.com/tbeyoungfamilies.
Here's a sampling of current programs:
ShBaBimBam. Held twice monthly in the "Hevre Clubhouse" behind the TBE social hall, ShaBaBimBam is a 45-minute music and movement program which features Music Together's Natasha Fenster and Steve Epstein. Families celebrate Shabbat together and then join the congregation for a Kiddush lunch.
Tot Kabbalat Shabbat. Families meet every other month on Friday evening to welcome Shabbat with songs and a special service. This BYO dinner is led by Rabbi Hammerman and Cantor Fishman.
Havdalah. Families meet on Saturday evening every other month to say "good-bye" to Shabbat. The service, led by Rabbi Hammerman and Cantor Fishman, is followed by a variety of fun activities for the children.
High Holiday Service is a unique spiritual service that's performed in a dynamic and age-appropriate way. Children enjoy snacks, edible art and engaging activities.
Holiday parties. Held in the TBE social hall, Young Family parties are filled with enrichment activities that center on the traditions of the holiday, including holiday foods and exciting entertainment.
Weekly Playgroup. Kids and their parents get together every Monday at 3:30 p.m. in the Hevre Clubhouse, where light refreshments are also served. Any changes or cancellations are posted to our Facebook page.
Parent-only activities consist of outings for parents such as Parents' Night Out, brunch, movies, and more.
Family activities. In the summer, families get together for picnics, beach outings, BBQs, backyard Shabbats and much more; in the winter, there are indoor picnics, potluck dinners, and other fun events.
K'tanim is a drop-off program run by TBE's Religious School that caters to 3-4 year olds. Children meet on Sunday mornings from September to May for 10 sessions at the synagogue, where they learn about Jewish holidays, stories, blessings, values and more through play, music, movement, crafts and storybooks. There is a nominal fee per child. Please click here for more information.
We invite you and your family to join the incredible Hevre Young Families@TBE community here at Temple Beth El.
For more information, contact Jami Fener at youngfamilies@tbe.org or call (203) 322-6901, x311.