Family Programming @TBE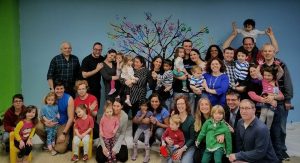 Temple Beth El is proud of its rich family programming and the welcoming group of families that make up our warm and inclusive community. Together, we foster and strengthen our children's Jewish identities, while spending time with others who share our passion for passing our love of Jewish values and traditions on to our children.
We invite you and your family to join this incredible community here at TBE. While membership is not required for most activities, many families take advantage of the various benefits of TBE membership. All programs are posted regularly on our Facebook page or on Instagram at templebethelstamford.
Here's a sampling of our current programs. For more information on a particular program, contact youngfamilies@tbe.org.
ShaBaBimBam: This Shabbat-themed music and movement program features Music Together's Natasha Fenster and Steve Epstein. Families celebrate Shabbat in our Clubhouse before enjoying a Kiddush lunch with our congregation. ShaBaBimBam is held once a month for an hour. RSVPs are encouraged, but not required to attend. One of our most popular programs, ShaBaBimBam is geared to children ages 5 and under, with siblings welcome.
K'tanim: A monthly Sunday drop-off program run by Kesher Beth El for 3 to 5-year-olds for 10 sessions during the school year. Children experience Judaism through play, stories, music, crafts, and food.
Family Shabbat Experiences: This Kabbalat Shabbat program is perfect for families of all ages. We meet earlier than our traditional Friday night service several times throughout the year to welcome Shabbat with dinner, songs, and fun. BYO Shabbat dinner before services begin and spend time with friends.
High Holidays Children's Programs: Our children's programs on Rosh Hashanah and Yom Kippur get rave reviews every year with two musical, engaging, interactive family services, one appropriate for young children, ages five and younger; the other for children in elementary school through grade 7.
Holiday Celebrations: We host thriving holiday parties and programs throughout the year. Each event is thoughtfully comprised of enrichment activities and entertainment centered on the traditions and customary foods of each holiday. Come celebrate with our diverse and warm community.
Parent Activities: We have social activities such as Parents Night Out, happy hours, planning get-togethers, and more.
Seasonal Activities: In the summer we gather together for picnics, BBQs, Backyard Shabbat and more; in the winter, we enjoy indoor parties, potluck dinners, movie nights, and other fun events and celebrations.
There's always something going on at TBE!
Related Forms & Documents
at