Kesher Beth El
Two Synagogues, One Learning Community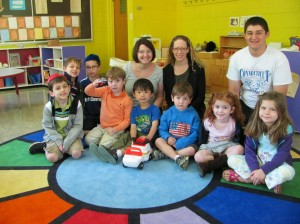 Kesher Beth El is a collaboration between Temple Beth El in Stamford and Congregation Beth El in Norwalk. (Kesher in Hebrew means connection.) The school provides a warm, exciting, challenging and supportive learning environment for the children of both congregations.
Our goal is to help create the next generation of thoughtful, sensitive and committed Jews.
We want our children to be engaged, active learners who are willing to challenge and to question as they express their views on everything, from the meaning of prayer to why we observe various holidays and the importance of ethics.
We want them to have the skills and knowledge base to be active participants in the religious services of any synagogue and to be skilled in all areas of religious practice.
We want to provide an atmosphere of learning that matches their intellectual curiosity and their thirst for knowledge.

Throughout the school year, we provide our students with wonderful hands-on learning experiences cooperative learning and instruction aimed at developing higher-order thinking skills. These include special projects and experiential activities, including Shabbat programs, Shul-ins (sleep-overs at the Rabbi's home) and Shabbaton weekends (retreats for students), as well as family education days that enable children and their parents to learn together through a myriad of enjoyable projects and simulations.
Kesher Beth El offers a full program of studies for children in grades Kindergarten through 7. Grades Kindergarten, 1 and 2 meet on Sunday mornings from 9 am – Noon. Grades 3 – 7 meet on Thursdays from 4 pm – 6 pm and on Sunday mornings from 9 am – Noon. Children receive formal instruction in Hebrew language, Siddur (prayer), customs and ceremonies (holiday observances and life-cycle events), Jewish History, Bible, ethics and Israeli studies. All children participate in age-appropriate religious services at least once a week.
We also have Jewish music and remedial Hebrew-reading specialists as part of a very committed and talented staff of teachers. There's an up-to-date computer lab that challenges students with research projects and demonstrations, and two smart boards that are integrated into classroom instruction.
For more information about Kesher Beth El, please contact Lisa Gittelman Udi, the school's director.