Jackson Goichman – A Little Bit of Hope
For my Bar Mitzvah Project, I wanted to offer gifts and inspiration to women with breast cancer through my mom's practice. I wanted to remind women of their strength and encourage them to persevere through tough times. My project was influenced by my mom and her dedication to her patients. Through my project, I can show how a little bit of hope can go a long way.
BRAVE–CONFIDENT–COURAGE–FIGHT–HAPPY–HOPE–LOVE–PERSEVERE–POWERFUL–SMILE–STRONG–SUPPORT–WARRIOR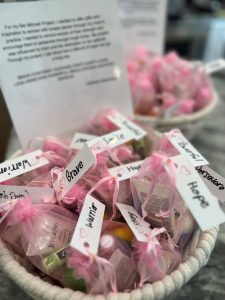 Gabe Parker – Making a Difference One Tail at a Time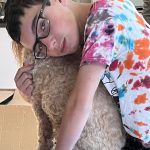 I have chosen to give charity to the Ridgefield Operation for Animal Rescue (ROAR) because I think that the dogs there deserve a better life. With the money that I donate to ROAR, they will gain, even a small change, a good change to their lives, helping them.
Jonah Shapiro – Fighting Hunger & Illiteracy
For my Bar Mitzvah project, I am helping two different communities. One of them is near home in Fairfield County, CT and the other is far away in Mbale, Uganda. Filling in the Blanks is a local organization that helps hungry children. It is important to me since children in our own community are food insecure and for various reasons their families don't make enough money to provide enough food. The organization packs weekend food bags to hand out at schools across our county for those children at risk of weekend hunger. I have volunteered there myself and can say that it is a great organization to support. They are doing a special holiday backpack drive and you can donate directly to them by using the Amazon wish list link or via Venmo, @danishapiro1, with "Filling" in the comment. I plan to do many more packing events in my future and hope you will volunteer there too.
In Mbale, Uganda, I want to help students stay in school. Semei Kakungulu High School is a school for Jewish, Christian, and Muslim student. The females there have the hardest time because they lack basic hygiene products. Without them, they do not go to school and without school, it is harder for them to escape poverty. All people should have an equal opportunity to be educated. To help, please contribute via Venmo, @danishapiro1, with "Uganda" in the comment.
Ben Winarsky – Bricks for Stamford Hospital
My name is Ben Winarsky, and I will become a Bar Mitzvah on May 28th. For my mitzvah project I am collecting new Lego and Duplo building sets that I will donate to David's Treasure Chest Toy Closet in the pediatric unit of Stamford Hospital. All children admitted to the hospital are able to choose a gift from the Toy Closet and I would like Legos and Duplos to be available.
The reason I chose this as my project is largely based on my love of Legos. Everyone who knows me knows I have a passion for collecting and building with Legos. I have spent countless hours of my childhood surrounded by bricks and Lego Minifigures. I hope children at Stamford Hospital will be able to experience the same excitement and joy of building their own Lego sets as I do. To make a donation of a Lego or Duplo set please contact me at benwinarsky@gmail.com.
Ethan Kaplan – Wildlife in Crisis
Last year my family and I rescued a bird and brought it to Wildlife in Crisis in Weston, CT. Thanks to them, it made a full recovery and got back into the wild. So naturally, as an animal person, I immediately went with this organization when it came to my Bar Mitzvah Project. I hope to raise enough money for more animals to be rehabilitated. The current goal is to raise enough to rehabilitate a bunny, songbird, and now a fox. Here is the link to make a donation: https://gofund.me/b97d5220. I hope we can reach this goal together as we help more animals be returned to the wild. Additionally, I will be collecting frequently used non-perishable items to bring to Wildlife in Crisis. Please check out my flyer for a list of items and you can bring them to Temple Beth El. Thank you in advance for helping to support this cause.
Jacob Lederman – Open-Door Shelter
For my Mitzvah Project I chose to work with the Open Door Shelter in my hometown of Norwalk, CT. The Open Door Shelter strives to make a direct impact in the greater Norwalk area by guiding every single person in the cycle of homelessness to an apartment. I am helping collect cleaning supplies that will be given to families as they transition to a permanent home. These supplies are essential items that help households with limited budgets as they get a new start. I helped collect 20 cleaning kits that were given to families for their new homes.
Jakob Zelazny – Titans Care Closet at TOR
For my mitzvah project I am starting a supply closet of personal care items for students in need at Turn of River Middle School. The "Titans Care Closet" will be available to any student throughout the school year. I will be collecting body soap, shampoo, deodorant, chapstick, toothbrushes, toothpaste, and other toiletries, as well as feminine products, new socks (adult sizes 5-10), and reusable water bottles. Many students at my school often struggle to afford these essentials, so I hope that by establishing the "Titans Care Closet," we can help ease their burden and provide personal care items when needed. There will be collection boxes at Temple Beth El starting in March, the Stamford JCC during the week of March 7-11, and Turn of River School in March and April. To make a donation, please contact stephzelazny@me.com. Thank you in advance for supporting this project.
Sylvie Rosenberg – Soup & Socks for the Less Fortunate
For my mitzvah project, I will be collecting soups and socks to keep people warm this winter season. Donations will be divided among three different charities: Foodbank of Lower Fairfield County, Inspirica, and Midnight Run. Soup boxes, cans and mixes will be donated to the Foodbank of Lower Fairfield County. Women's and children's socks will be donated to Inspirica, and men's socks will be donated to Midnight Run. Temple Beth El will be participating in our first ever Interfaith Collaborative Midnight Run this coming winter, and I'm excited to help kick-off this effort. Collection boxes will be set up at Bi-Cultural Hebrew Academy, where I attend school, and Temple Beth El. I will be collecting donations through the end of January. Thank you in advance for helping me keep others warm this season!