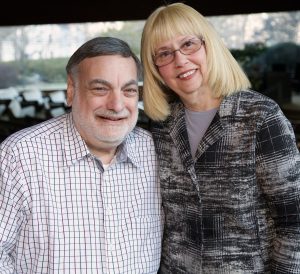 Temple Beth El has announced that Steve and Lieba Lander will be its honorees at the 2017 Cantor's Concert, Divas on the Bimah.
"It's impossible to make a list of people who have dedicated themselves to Jewish and community organizations without putting Steve's and Lieba's names among the top," said Mia Weinstein, president of Temple Beth El. "We could not have chosen a more deserving duo as our honorees this year."
For nearly 50 years, the Landers, either individually or together, have volunteered or worked for organizations whose missions focus on serving the needs of the community and improving people's lives: synagogues, such as Congregation Beth El in Norwalk, Agudath Sholom and, for the past 10 years, our own Temple Beth El; social service agencies, such as Hadassah, the Human Services Council, the Family & Children's Agency and the Friendship Circle; educational institutions, such as the Gan Yeladim Early Childhood Center. All have benefited from the couple's tireless devotion and commitment to making these organizations stronger and more vibrant.
To celebrate the Landers, Temple Beth El is putting together a virtual journal in which family and friends can purchase ads to show their love and appreciation.
To place an ad and purchase tickets for Divas on the Bimah, please click here or call the TBE office at (203) 322-6901, ext. 301. The submission deadline for ads is Friday, June 2.
Social Share