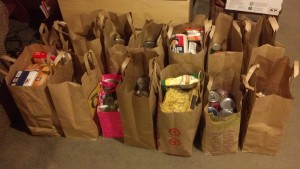 As we return to TBE for High Holy Days services, we will also continue our tradition of collecting food to help our neighbors who are struggling with food insecurity.
Empty bags, with a list of requested foods, are available to be picked up at the Temple as of Wednesday, September 1 for those participating in services virtually. The bags will also be handed out to each family at Temple on Rosh Hashanah. Congregants can use their own bags, if preferred. Please fill the bags with food and return them to the truck parked at the Temple on Yom Kippur or any day until Sunday, September 19.
Click here for the list of items needed.
Volunteers who are fully vaccinated are needed to help unload the truck and sort the food. This will be done at TBE on Sunday, September 19 beginning at 1:00pm. To ensure the safety of volunteers, 8 people per shift are requested. If you are interested in volunteering, please sign up by clicking here.
If you have questions, please e-mail Sharon Turshen.
This is your change to participate in Tikkun Olam.
Social Share