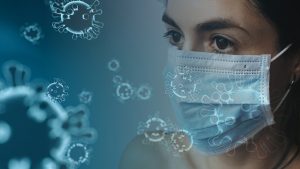 The following guidelines apply to all adults and children ages two and older who enter the building to engage in events and activities. (Note: Additional guidelines and restrictions may apply to specific events and activities as deemed necessary.)
Masks
Masks are strongly recommended for individuals who are up to date with their vaccines. Up to date means a person has received all recommended doses in their primary series COVID-19 vaccine, plus a booster dose when eligible. (Please click here for more information.)
Masks are required for individuals who are not up to date with their vaccines, except when eating. Physical distancing should be practiced. The use of N95, KN95, KF94 or 3-ply surgical masks is highly recommended. TBE will supply a recommended mask type if needed.
At funerals and shivas held at TBE, the rabbi may ask everyone to wear a mask if he determines that the risk is high enough to warrant it.
Food
Food may be served at TBE events.
Religious School
Masks are recommended. Classes will be held outdoors whenever possible. Children may eat snacks in their classrooms.
Shabbat and Minyan Services
Capacity restrictions have been eliminated.
Any attendee who tests positive for COVID-19 within 48 hours of attending an event should immediately report their exposure to Steve Lander at (203) 322-6901, ext. 304, or execdir@tbe.org.
Please stay home if you or anyone in your family is experiencing COVID-like symptoms or has recently been exposed to someone with COVID. If you have underlying conditions or an immuno-compromised system, you may want to consult with your physician before attending any event or activity.
As medical advice and protocols are updated by the Centers for Disease Control and Prevention (CDC) and state and local authorities, the TBE Reopening Task Force, along with its medical advisors, may modify these guidelines accordingly to create the safest possible environment for all those entering our premises.
Persons or organizations that rent TBE space for private events and activities (e.g., weddings, B'nai Mitzvah parties, meetings) will be given our protocols as suggestions, but may establish their own guidelines.
Please contact Steve Lander at (203) 322-6901, ext. 304, or execdir@tbe.org with any questions.
Please note that Beth El Cemetery is a separate organization from Temple Beth El. Families conducting a gravesite service should check with the funeral home or officiating clergy for any COVID guidelines they may have.
Social Share