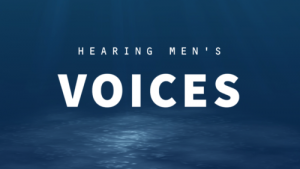 The TBE Men's Club is delighted to announce an exciting new program for its members called Hearing Men's Voices (HMV).
HMV provides an opportunity for the men at TBE to engage in open and honest dialog on common issues that relate to family, work, health, their roles in society and their Jewish identity. Through small-group discussion, HMV seeks to create and strengthen bonds of friendship, while helping men gain new insights and purpose, gleaned from each others' experiences and self-reflection.
The inaugural HMV session will be held via Zoom on Thursday, March 11, at 7:30 pm. The topic will be "Navigating Family Relationships During COVID." Please mark the date on your calendar. Additional information, including registration, will be sent to you in a few days.
Areas under consideration for future sessions include: Our Fathers, Ourselves; Talking to Aging Parents; Body and Spirit: Men Staying Healthy and Fit; Work and Worth; Men in Search of God.
Developed by the Federation of Jewish Men's Club, the male volunteer arm of the Conservative movement, HMV has been adopted by synagogue Men's Clubs across the U.S. and Canada.
Social Share