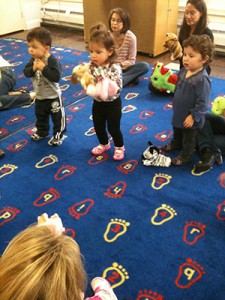 This fall, Just Wee Two, a toddler program that provides parent participation classes for one, two and three year olds, will move its location from the North Stamford Congregational Church to Temple Beth El, where it will lease classroom space.
The non-sectarian program encourages children to explore, discover, interact and enjoy this special time in their lives, while providing grownups (moms, dads, grandparents and nannies) the opportunity to share in the experience.
Just Wee Two will offer a number of different parent and child sessions, including partial separation and reading readiness. Fall registration is now open; an open house will be held at the synagogue on Tuesday, September 9, from 10 am – noon.
For more information about Just Wee Two, as well as rates, session dates and times, click here. TBE families will receive a discount on program fees.
Note: Temple Beth El does not recommend or endorse any one program/provider over another. It is the parent's responsibility to evaluate and select the program that best meets their child's and family's needs.
Social Share