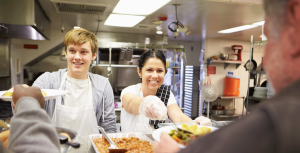 It's time again to organize the Christmas Eve dinners at the shelters, which will be held this year at New Covenant House, Inspirica on Franklin Street and Pacific House. There are several ways to contribute to this effort:
Donate food/paper goods (see list below)
Donate gloves, hats, scarves and winter socks for the men's shelters at Pacific House and New Covenant House
Donate make-up items for the moms at the Franklin Street shelter
Serve and clean up lunch/dinner on December 24 at one of the three shelters
Sing with a chorus of other TBE members on December 24 at one of the three shelters
Donate money to be used to buy either gifts for the residents or food for the meals
Please e-mail Amy Temple to let her know how you would like to help. If donating food, specify the item(s) you can provide. If giving money, write a check payable to TBE, note in the memo it's for the Christmas Eve Shelter event, and send it to Steve Lander.
We expect to serve dinner to approximately 250–270 people so our needs are great. Here is a list of items needed. One hotel tray (12″x20″x3″) feeds about 30 people.
10 turkeys (serving 10-12 people each, must be carved)
Stuffing (4 hotel trays)
Cooked vegetable dish (4 hotel trays)
Sweet potatoes (4 hotel trays)
200 sugar packets
300 dinner rolls
30 pies (apple, pumpkin, etc.)
6 boxes of tea bags (20/box)
130 hot chocolate packets
400 candy canes
Cranberry sauce (servings for 120 people, 27 15-oz cans)
Butter (3 1-lb boxes)
Soda (2-liter bottles: 10 Coke/Pepsi with caffeine, 5 Diet Coke/Pepsi with caffeine, 4 Sprite, 4 root beer, 4 orange)
Apple juice (3 ½-gallon bottles)
30 oranges
30 apples
Brownies
Cookies
Cakes
300 chocolates individually wrapped (Lindt truffles, Ghiradelli's squares, etc.)
25 bags of Hershey Kisses
4 1-lb bags of ground coffee (regular)
3 1-quart containers of half-and-half
2 ½-gallon containers of whole milk
50 paper table cloths
350 10″ paper dinner plates, 350 dessert plates, 350 napkins (festive but not Christmas)
350 spoons, 350 knives, 400 forks
300 hot cups
400 cold cups
4 bags of ice
3 rolls of aluminum foil
1 large coffee pot to borrow for Franklin Street shelter
We also need donations of gifts for the residents of the shelters:
75 pairs of gloves, hats or scarves
135 pairs of men's winter socks (wool or synthetic blends as these men live on the street)
15 pairs of women's winter socks (wool or synthetic blends)
60 items of make-up (perfume, lipstick, eye shadow, mascara, nail polish, blush, foundation, etc.)
Non-perishables can be dropped off at TBE prior to 1 pm on Saturday, December 24. Please see Steve Lander or a member of the office staff when you leave your items. Perishables should be dropped off at the TBE lobby betweem noon and 2 pm on Saturday, December 24.
This event is a huge undertaking and would not be possible without your generous participation. Any donation will be much appreciated.
After the shelter dinners, we will go out to dinner at Ocha. Please let Amy know if you will join her.
Social Share